Our Hotel in
Rannoch
Our hotel is situated in the remote village of Rannoch Station, not far from Loch Rannoch and the village of Kinloch Rannoch. Surrounded by the vast expanse of Rannoch Moor this is a truly unique place to stay. The perfect antidote to the fast paced modern world, a stay with us gives you the chance to really relax and unwind. Each of our five guest rooms has views across Rannoch Moor and the magnificent West Highland Ralway Line. Wildlife is in abundance and the ever changing weather conditions mean that each time you glance out of the window the view will be different.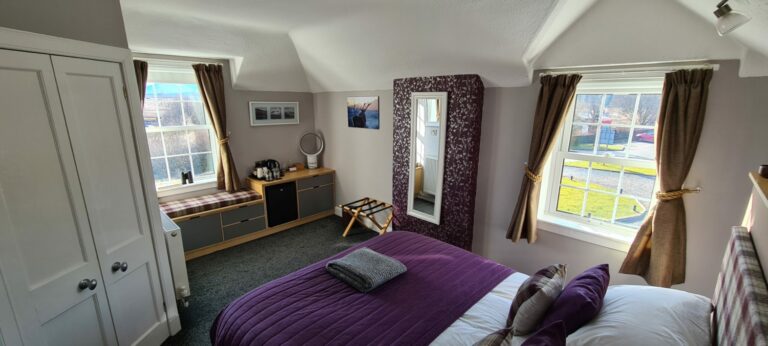 All our rooms feature superb views across wonderful Rannoch Moor along with binoculars to make sure you can make the most of it. Due to our remote location you won't find a tv or telephone in your room and to complete your digital detox there's also no wifi. So relax in comfort, read a book or sit by the window. And when you're ready, head down stairs for a quiet malt whisky or Scottish gin in our cosy conservatory (which also has fantastic views across the moor). In your room you'll find:
All of our rooms are dog friendly and there is no charge for bringing your dog with you. They'll even get a free sausage at breakfast, diet depending! All we ask is that there is a maximum of two dogs per room and the wishes of any other guests are respected.
Price
PER NIGHT DBB (From)
(Single occupancy from £310.00)

and full Scottish breakfast
Outstanding in every respect
Absolutely outstanding in every respect. The whole ambiance, welcome, the rooms and the food all in a class of their own. Delightful couple who have huge talent but extremely humble about it. True dog friendly with towels in the porch, beach walk, bed and toy at the table everything you could want!
Just perfect
So lucky to visit this hotel with friends as a special birthday celebration. Food was probably the best we have had in a hotel - the flavours and attention to detail were second to none . The sun shone all weekend , the rooms were very comfortable and the hotel staff were warm and welcoming . The surrounding area is breathtaking with lots of lovely walks available . Can't recommend this hotel enough - visit if you can!
Best hotel I've stayed in for a long time
Situated in the middle of the wilderness of Rannoch Moor this is a wonderful place to spend some time. I took the sleeper train from London and was met at the station by Scott & provided with an excellent breakfast. Very quiet spot and a beautiful room with views over the moor, perfect location if you like wide spaces & mountain scenery and the food is magnificent. Steph is a brilliant cook.
Amazing
This is an exceptional place to stay. Scott and Steph are brilliant hosts. So knowledgable about their produce and surroundings. Steph produces the most amazing food I can't even describe how good it is. I was a bit sceptical about no Wi-fi and no tv but the surroundings are like your own personal Springwatch episode.
Our new favourite place to stay
Dinner at the Moor of Rannoch is an experience. The food is of such a high standard that each night we felt a tremor of excitement upon opening the menu to see what delights were in store for us. The quality of the ingredients, the presentation & the blend of perfectly balanced flavours were consistently superb, all served up in a relaxed & friendly atmosphere. Steph is an incredible and creative chef and is clearly passionate about everything she creates.